We have been working in the ladies golf market since 1997 and Surprizeshop was started as a result of listening to our customers' needs during this time. We found that there was a huge gap in the ladies golf accessories and gifts market, so Surprizeshop was born and we have never looked back since!
Ladies love to buy, however they also love to give just as equally. Whether it is a Lady Captain's Day, a girly golf weekend away, or a County competition… ladies love to buy gifts and prizes to celebrate these occasions. Gone are the days where a bottle of wine or a gift voucher will suffice- ladies are always looking for the next best unique gift to give. This is where Surprizeshop fits in so well. We take common golf products and put a feminine touch on them, and everyday useful items with a golf twist - which are usually very hard to find
Everything is designed by the Golf 2 Golf team and is therefore unique and because we source it ourselves, it is extremely affordable. The most expensive product is only £39.99 (retail price) so the whole range is extremely affordable. The collection is constantly being updated and extended so it's easy to keep your offering fresh.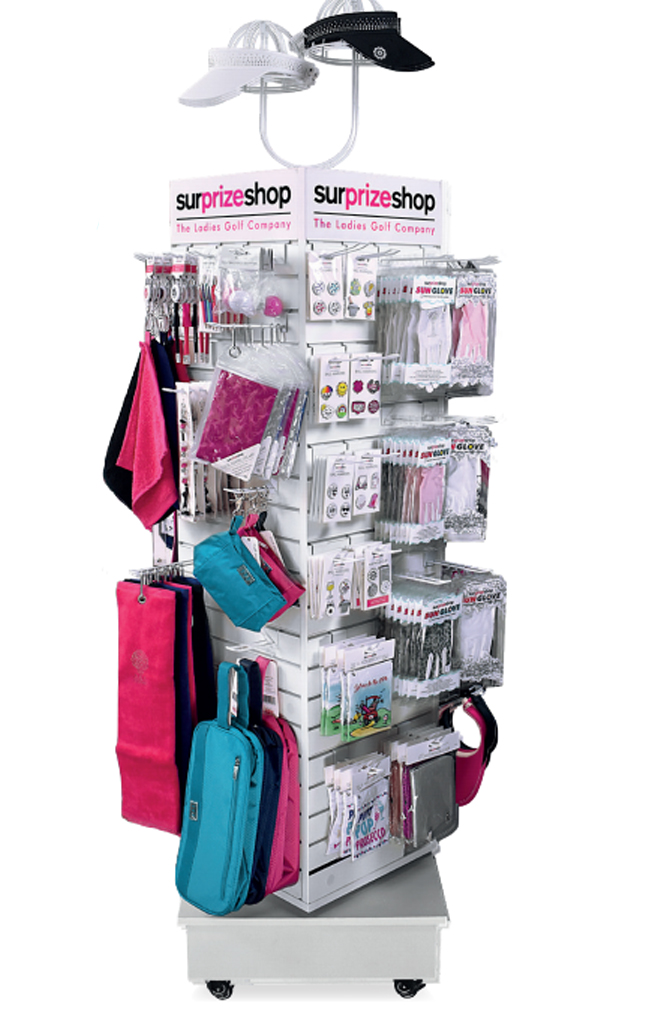 Surprizeshop enable you to support your lady members with very limited financial risk. In addition to purchasing items individually we offer the collection to the trade in great value packs that include all our best sellers. This can give you great confidence for sell through and that you ladies will be happy with the support you are giving them.
Originally Surprizeshop was set up as a B2C company only, but due to organic growth and such high demand from trade customers wanting to stock our items, we expanded into B2B selling as well.
We also offer a Lady Captains range. This is already heavily discounted so the full margin is not available on this collection. Call your account manager to discuss.